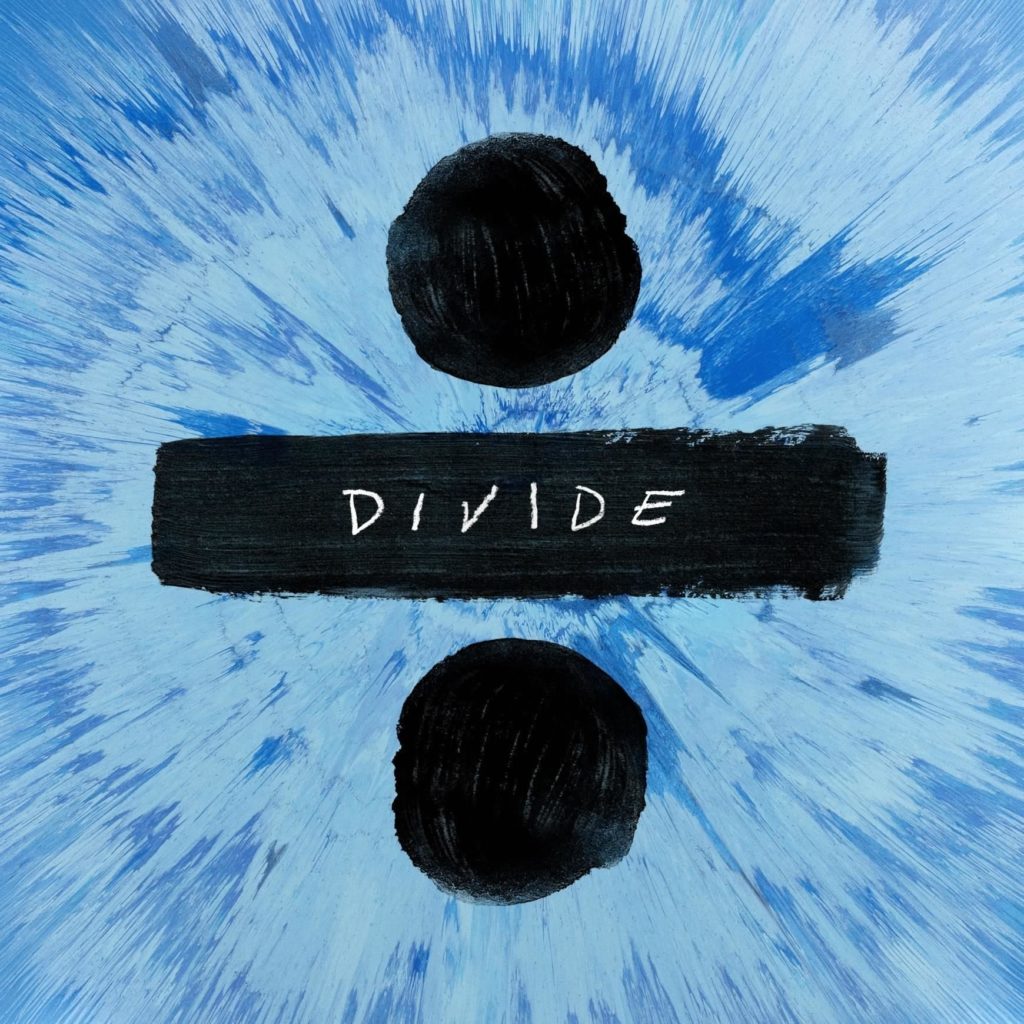 After a long hiatus and extended travel time, Ed Sheeran released his third album "÷", read as "divide". The novelty of his math symbol title pattern continues with "Divide" following the "Multiply" ("x') and "Plus" ("+") offerings. "Divide" steers us between Sheeran's heart-felt ballads and distinctive acoustic, pop songs with the addition of some newly folk-inspired sounds.
Let this sink in for a moment, a week or so after it's release, there were a staggering 'nine' tracks from Ed Sheeran's Divide album in the top ten singles chart.
The two singles so far from the album, "Castle on the Hill" and "Shape of You," were released on the same day, and lend insight into the two music streams for which Sheeran is known. If you haven't heard 'Shape of You' yet, I'm not sure what rock you have been under. It hasn't reached "Thinking Out Loud" stratosphere levels yet but wow, I hear that song everywhere. "Castle on the Hill" is an upbeat pop ballad, that has Sheeran styling all over it. Sheeran's strengths lies in his sincerity and storytelling skills, he brings you along with him and lights up your imagination, sparking the visual cortex of our minds eye. The album starts off with a song that threw me a bit in "Eraser", Ed Sheeran…rapping? After the second verse I was grooving to it though and although I'm not sure if this will be a huge song, it lends itself to Sheerans desire to evolve and experiment with his music.
The folksy offerings "Galway Girl" (which almost didn't make the album) is ironically preposterous and catchy, and later "Nancy Mulligan" are definitely two of my favorites on the album that get your toes tapping and if you're not bopping a bit to the latter song I'd be shocked.
To me it appears that Sheeran has mathmatically (see what I did there) styled this album to dip in as many flavors and audiences as possible. Sheeran possesses a knack for delivering albums that are almost guaranteed to have songs charting.
"Perfect" is full on icing sugar; it's the school dance, 45rpm ballad that should be make you roll your eyes, but doesn't. Nothing about its musicality or arrangement is original but the validity of the song is pretty undeniable. You can totally see it in a flashback film to the 50's and on that film's soundtrack. I'm sure that it will grace many a summer 2017 wedding soundtrack, moments for which it was built for. "Dive" is a wonderful ballad that slips into Sheeran's vocal rasp that is typically hidden on most songs. "Supermarket Flowers" (pass the kleenex please) is a heartfelt song for his grandmother that emotes with the aftermath of her death. If this one doesn't get you in the ticker, your heart may have stopped. "How Do You Feel" had a very early Bill Joel-esque feeling to it that I enjoyed, a rainy day, cup of coffee by the window song.
I seriously laughed out loud to "What Do I Know" as I literally say those four words frequently after voicing some random opion, a catchy song that will have you hand slapping the steering wheel while you sit in traffic.
The extended edition of the album adds several upbeat, fresh tracks to the end of "Divide". "Barcelona" incorporates Ed's travels on his hiatus, giving it a fun, adventurous quality. International flavors abound with Barcelona and "Galway Girl", the joyful "Bibia Be Ye Ye" features lyrics in Twi, a language spoken in Ghana. The title means "All Will Be Well" (come on, I know you wanted to know) and the rapid beat and fun guitar highlight this song and give it a very Paul Simon – Graceland vibe.
The overwhelmingly talented Sheeran, now 26 years old, has three massive hit albums behind him. Where does he go from here (I suspect an album named "-" Subtract)? One thing that appeals to me about Sheeran is that he is the architect of his own career. His skill of creating an album that effects many an individual and mood is unsurpassed in the industry at the moment in my mind. "Divide" is a strong offering that we will be listening too (at least until the next math symbol) for some time. I give it a strong 8/10, cheers!