Having missed the show last year at the Capitol I was going to make sure that I would not miss this year a guitarist that has been named one of the greatest players of all time.  There was a buzz in the room prior to the show like we were about to see something special, the crowd ranged from young to, not so young (don't like saying old).  As I took my seat in my private little box (thank-you Spank The Plank Productions) I was made aware that Tommy would be having an opening act.  What an opening act it was, Vinny Raniolo & Frank Vignola blew the crowd up with their manic guitar playing, humor, and if this was any indication of the show ahead we were in for a treat.  Frank even spotted me at one point, stopped the song half way through, told Vinny to pose (he wasn't really sure where to look so just posed), I snapped the picture, and they picked up in the song right where they left off…the crowd loved it.  The vibrance with which these two New Yorkers played was incredible, they electrified the crowd from the get go…their short set was almost not enough…definitely leaving us wanting more.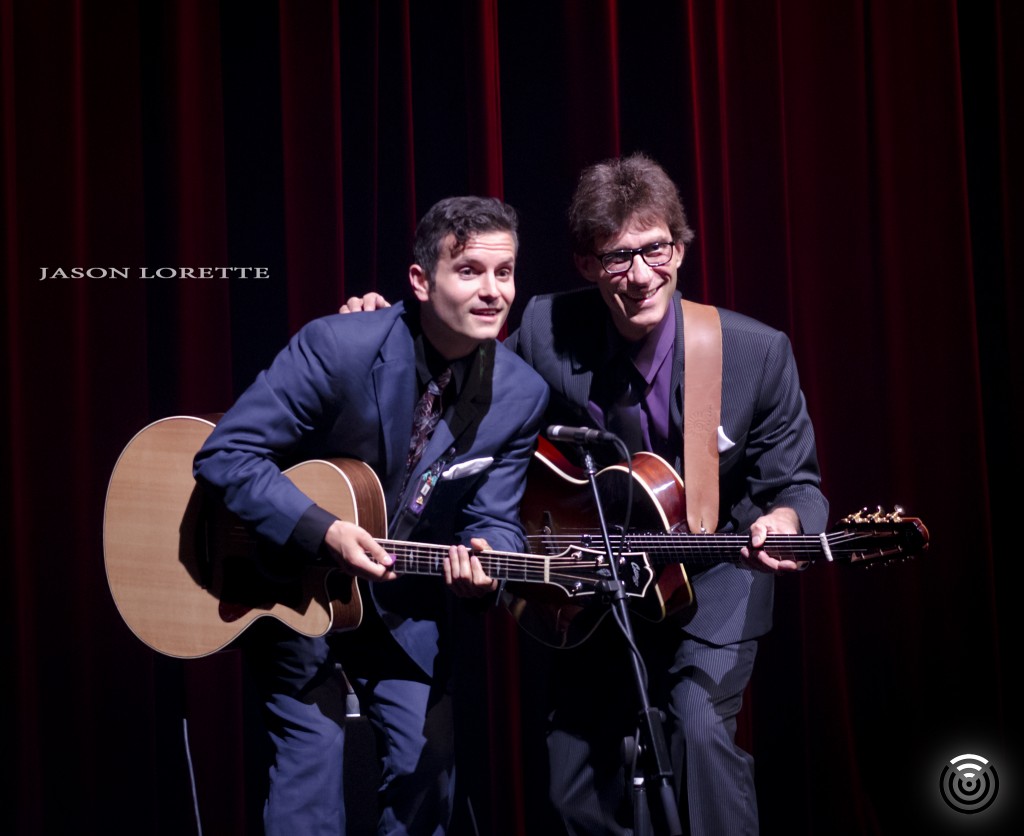 Vinny Raniolo & Frank Vignola – Capitol Theatre – 05/30/2014 ~ Refrain Photography
Never having heard of this Emmanuel prior to last years show at the Capitol (which as I said, I unfortunately missed),  I wasn't sure what to think beforehand, having watched a plethora of YouTube videos but certainly never expected this stratospheric level of musical manipulation.  My God what this man can do with six strings and ten fingers!!   The musical virtuosity that Tommy displays in song after song caused, I saw, many a jaw dropping moment. I was astounded with his percussiveness on the body of his guitar mixed with the playing that those magical fingers performed on the strings.
Emmanuel was a child prodigy and by the age of six he was already working as a professional musician. His music and life are legendary in his native Australia, where he is a household name. He has recorded and performed with countless well known artists including : Air Supply, Men at Work, Chet Atkins, Les Paul, Keith Urban, Eric Clapton (who has said that "he is the best guitarist I have ever seen"), and many, many more.
He rolled through many songs including playing one of his new songs "Blood Brother"  off his latest album which was beautifully mysterious. He also played old favourites "Angelina" which he told us was written for his youngest daughter.  He also shared with us notes about his family and growing up one of six kids.   Every once in a while you detected a familiar melody and I myself found myself closing my eyes as a beautiful rendition of "Somewhere over the Rainbow"  elaborately excaped tommy's guitar, after which he received yet another  of many standing ovations.
Charismatic in his delivery, rocking us with rousing versions of songs like "Guitar Boogie", and magical with his playing, the very appreciative crowd ate up every note that was thrown at them. Tommy was joined at the end of the show once again by openers Frank and Vinny to have a three man jam on stage that was just mind blowing.  I highly encourage you to get out to see these guys play if they are in your area as you will not be disappointed.
Thanks to Frank & Vinnie, Tommie Emmanuel, and Spank The Plank for a wonderful show!