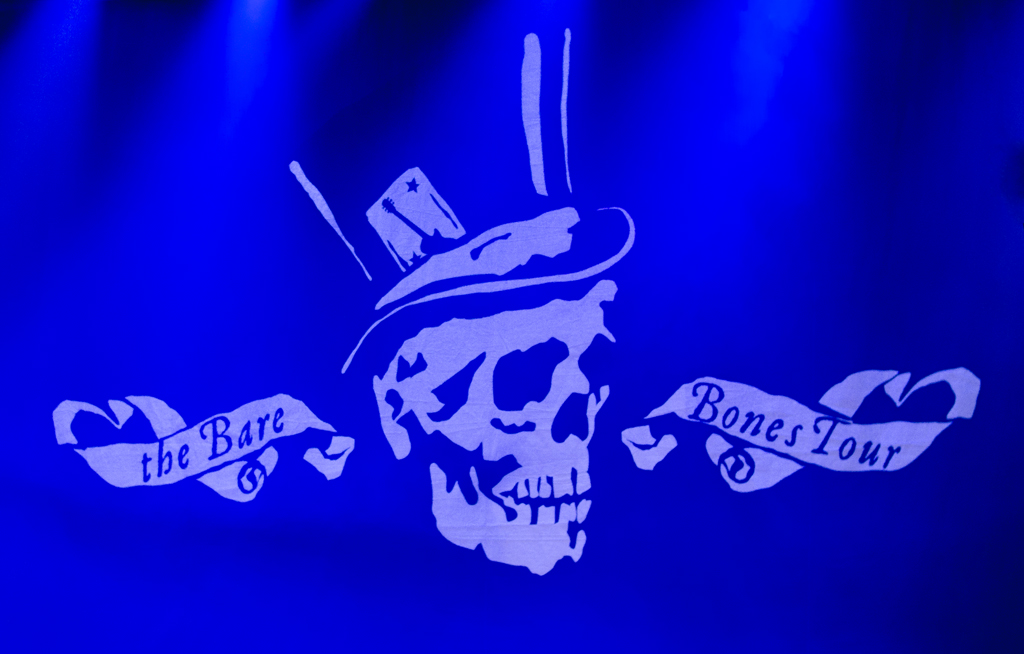 Bryan Adams – Bare Bones Tour- Moncton Coliseum – 04/30/14 ~ Refrain Photography
The first time I saw Bryan Adams I was still buying music on 45's with my allowance, his Cuts Like A Knife album was barely out, and hardly anyone knew who he was.  The next couple of times I saw him he was singing about "The Summer of 69", being in "Heaven", and asking someone to "Please Forgive Me".  Almost thirty years after the first time I saw him perform was a chance to watch him sing the songs stripped down to their 'bare bones', acoustically performed, like Adams says "sung like they were written".
Adams is a singer-songwriter, musician, producer, actor, and photographer (and a damn good one).  He's one of the world's best selling artists of all time and the best-selling Canadian rock artist of all time, he is a staple on rock radio and has written/performed some of the most popular and recognizable songs of all time.
The show itself started with Adams stepping on stage (about 20 minutes past the scheduled start) with no introduction, not that one is really needed, with a top hat (to mimic the logo above) and a guitar.  With a salute to the crowd and a bow, setting his hat at his feet, he launched into "Run To You".   The crowd was into the show from the get go, with Adams being very interactive, taking 'request's  from the crowd and playing them on the spot.  He was accompanied by only one other musician "Gary" on the piano, the appreciative crowd at one point breaking into a chant of "Gary, Gary" after one vigorous session of piano playing.
While some bands/singers over a 30+ year music career start to lose their joy for performing, Adams has obviously not, chatting with the crowd, cracking spontaneous jokes, and really getting into the show.  Another thing that can wither over time is vocal ability, and Adams who's now in his mid-50's has not lost a step at all.  His vocals were bang on and strong, which was evident in this exposed show not being hidden behind electric guitars and heavy rock drums.  When given the chance, the crowd joined in, word for word on many songs becoming part of the show.  Including one member of the crowd chosen to 'dance' in the aisles during a bluesy number and the crowd loved it.  People would call out from the seats, and Adams would answer, he was definitely there to perform, interact, and entertain.
Adams played for a solid 90 minutes, never breaking, interacting with the crowd…even speaking to the crowd in exceptionally fluent French.  He played a request from one lady in the second row saying to her "didn't you ask for that on my Twitter today?", which she had, launching into the beautiful song "Flying".  It was interesting to hear some songs broken down, skilfully played on an acoustic guitar and piano, with strong vocals, and the crowd as a back up singer.
Arguably one of the best shows I've seen in quite a while, with multiple standing ovations and after his 90 minute main set Adams (and Gary), raised their top hats and left the stage.  But there was no way the crowd was letting them get away that easy, Adams returning after being beckoned by the the crowd for more to play an unheard of five song encore.  It culminated with a final song that Adams wrote when he was 18 years old and his first US top ten, "Straight From The Heart"
An immensely enjoyable night of music that I encourage anyone to get out and see if they have a chance, go see this show, you won't be disappointed!  Thanks to Adams, Evenko, and PPRL (oh, and Gary) for another fantastic night of music in the city!