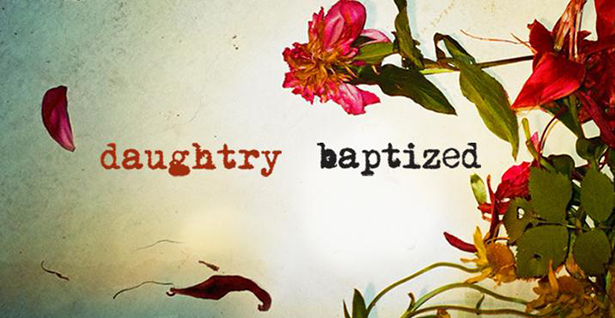 Back with their fourth studio album Daughtry graces us with their new compilation, "Baptized". When I first started listening to this album it threw me a bit, gone were most of the fuzz-pedal laden heavy guitars replaced by synthesizers and pop-influences.  I wasn't sure what to make of it, as this was not the band I was used to hearing when popping in a Daughtry album.
Leadoff single "Waiting For Superman" rattles into that more pop sound (some would argue that Daughtry was already pop enough) with co-writer Martin Johnson, who co-wrote just under half the album.  It's a cool single that I did enjoy, with some cool lyrics like " "Yeah, he's still coming, just a little bit late, he got stuck at the laundromat washing his cape"; it also has a pretty good video.
"Broken Arrows" is actually one of my favourite songs on the album, this is a radio single I can see happening.  It's relatable for anyone that has had multiple relationships fall apart on them and asks the question, 'why do I keep trying' that lead into lyrics like "I'm tired of taking my aim when I keep on missing" & "I'm tryin' to hit the mark but I'm shooting with broken arrows".
"I'll Fight", one of the few songs that Daughtry fully wrote by himself on the album. It's a more guitar-driven composition that could also work as a single, with an inspiring message about being there for someone when they are at their worst.  One of the oddest songs for me was "Battleships", I just don't get this song at all and really didn't feel it warranted an 'acoustic' treatment on the Deluxe Edition of the album that has three additional tracks.  Don't get me wrong, I think the song has a great story, and some really great lyrics, Chris' vocals even get to let loose a bit more…I think it's the "boom booms".
"Long Live Rock & Roll" at first I didn't like, it's growing on me, but a song that talks about Rock & Roll and big guitars, I'd expect to be more rocky and have more big guitars!  I like the lyrics that name-checks favourite artists and bands over the years, I really like premise of this song, it's fun…I just wish it had more of that normal Daughtry edge to it…less 'Train', more 'Three Days Grace'.
"Cinderella" was a song that was odd for a Daughtry album, speaking of a 'Train' styled song, but odd as it was I really liked it.  I found myself rolling down the street bopping in my seat, bopping my fingers on the steering wheel, whistling with the whistle parts, and once I learned the lyrics singing along…it's catchy.  A total radio hit will be "Crawling Back To You", it has just enough of the Daughtry edge and heart tugging lyrics that this could/should get regular airplay on most radio stations.
I think that will be the legacy of this album, good, commercially successful, have several radio hits…but regular Daughtry fans with find this a tough pill to swallow.  They will want to like it as much as past albums but will struggle too, songs like 'Traitor', 'Renegade' (probably the most Daughtry-esque song on the album), and 'Witness' with an slight nod to 'Outta My Head' will be the saving grace for them and keep them coming back for more on the next album.  These days, rock acts that manage to move even 1 million units have become a rare exception, not the regular rule. Chris Daughtry has been one of only a handful of rockers in the last decade to pull that off, with the first three albums selling more than 20 million units worldwide and another 53 million individual tracks since his debut in 2006.  This pedigree is one of the reasons I own all of his albums, good rock music has been missing mostly from radio and store shelves.
As much as I gave full marks to past Daughtry albums this one dips, a bit, and I'd give it a 7/10 if I had to scale it.  Still a great album, from a great band that was trying a few different things (which I'll always give marks for for keeping it fresh) and one I'd recommend adding to your Daughtry collection…xmas is around the corner, would be a good stocking stuffer!