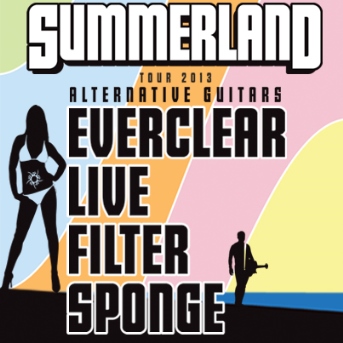 The early 90's brought about a change for what most considered 'rock' music, leaning away from the 80's 'hair bands'.  The hair was cropped off for the most part, the glitz and glam were gone for black and plaid, and the music took on a more edgy sound that resonated into bands that appeared from the shadows…many that have gone back to the shadows and vanished in 2013.
Many members of these bands on the Summerland tour, still touring, still making new music, have changed.  Art Alexakis, front man for headlining act Everclear is the only orignal member left, the same going for Filter, and Sponge…Live, a little different, their original singer hasn't been around since 2009.  Does it matter?  Not one lick to the fans of these bands in attendance at Casino NB for the tour's only Canadian date (yes you read that right, the only stop in the whole country was here).  One thing that I think confused a lot of fans on this tour was the name of the tour itself, it was promoted at first as just "Summerland 2013" and no one really knew what that was.  In only it's second year, it's not yet big enough for it to be immediately recognizable and nearer to the show you started to hear the bands involved, I think if they'd advertised what bands were involved sooner, the crowds would have been larger.  I heard many a fan say after "I didn't even know they were coming".  That didn't stop the enthusiastic crowd that did attend that ranged in age from young to easily over 50.
Up first were Sponge, and I must confess I knew little of the band before tonight, but did end up recognizing more songs than I thought I would.  The band was tight, and lead singer Vinnie Dombroski guided the band through it's slightly under thirty minute set with ease, engaging the crowd and belting out the tunes.  Sponge, Alexakis said before the show, were one of the first bands to invite Everclear on tour, and he wanted to return that respect with a spot in Summerland. The Detroit group's sound, has been somewhat forgotten over time, and while they've released plenty of new material over the years, their set was all old-school, including three songs from 1994's Rotting Pinata, hits Molly,  fan favorite Plowed and the title track off RP.  The oft-bare chested Dombroski showed his experience and brought this evenings crowd into the action.
Richard Patrick, the only original member of Filter still remaining (and former member of Nine Inch Nails, and Army of Anyone) has always had one of alt-rock's great mind gripping yelps, and you got to hear that tonight.  He was obviously having fun, even grabbing a fan's phones to take a picture of the band from the stage.  Spinning through hit's like Jurrasitol and Hey Man Nice Shot, Filter was a hit with the growing crowd that filtered in all night (…sorry I had too) and was one of my favorites of the night.
While Art Alexakis may have been the most recognized name on the Summerland Tour, but the bigger band — at least back in the day — Live.  After parting ways with singer Ed Kowalczyk amid personal and legal scuffles, they were Summerland's biggest puzzle of whether they would still be a Live that fans could relate too.
It didn't seem to matter, sew singer Chris Shinn was a worthy replacement for Kowalczyk, a talented, and engaging presence on the stage not overshadowed by the more long standing members. In the live mix of louder songs like I Alone, his vocals fit and didn't mis anything of live gone by, and he's smart enough to know when to get out of the way. He yielded the floor to his bandmates when he felt in necessary and let the crowd handle much of the band's signature hit, Lightning Crashes.
With the two Summerland tours being the baby of Art Alexakis, of course Everclear headlined the lineup, and Alexakis was front and center, with his four new bandmates joining him on the stage.   Everclear's hit singles proved to be no trouble for the accomplished musicians teamed up with Alexakis' throaty voice.
It was night that got louder as it went (I felt sorry for anyone without their earplugs) with Everclear slipping in a new song here and there and by the time they closed, with Alexakis slapping fives with fans in the front row, the audience still wanted more.
If Summerland 2013 is coming to a city near you I encourage you to check it out if you love the 90's styled edgy rock and roll, thanks to PPR, and Casino NB for another great show!