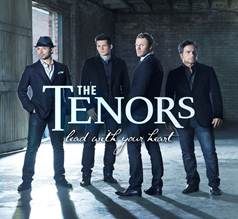 It's been five years since the 'Canadian Tenors' began stunning audiences around the globe with their melodic, and memorable performances.  Combining classic operatic styled music with some of musics most well known and recognizable songs they have become a massive international success, with Platinum albums both at home and abroad.  They eventually morphed into just "The Tenors" and now, Port McNeill's Clifton Murray, Toronto's Victor Micallef, Quebec's Remigio Pereira, and Vancouver's Fraser Walters are set to launch a cross Canada tour entitled  "Lead With Your Heart to support their latest album of the same name.
During the past two years, The Tenors have performed all over the world collaborating with greats such as  Celine Dion (on the Oprah show) Sting, and Paul McCartney, to name a few.  The Tenors also had the proveledge of performing at "The Queen's Diamond Jubilee" celebrations from Windsor Castle in the UK, where The Tenors performed for Her Majesty, Queen Elizabeth.
Reached in Vancouver Last week I had the opportunity to speak to 'Tenor', Clifton Murray, who was taking a break from rehearsing for the tour and took time out to speak with me.  The excitement for the tour was evident from the get-go as Clifton almost vibrated with energy, ready to go, anxious for the tour to begin.  He told me touring internationally is a great priveledge but it's always nice to come home and tour for the fans in Canada where it all started for them.
When asked what most changed their career to this point, he mentioned several events that were instrumental in their recognition an rise, including an appearance on the Opera show where they were surprised with a visit from none other than Celine Dion.  I asked how it was to not only sing with such an iconic performer, but to not know it was going to happen, to which he responded that if it wasn't for their training they would have lost it and that it was an amazing surprise.  Singing for the Queen was obviously huge for them (and getting to ride one of her prized horses) and their relationship with fellow Canadian David Foster.  He told me a wonderful story about being invited to Foster's home to perform at a private function he was having, to their surprise when they showed up the guests were the likes of Barbera Streisand, Regis Philbin and his wife and many others.  That party led to them being asked to perform at another function the following night, which to their surprise happens to be Regis Philbin's surprise birthday party!
All of these things he told me have made him realize that 'dreams can come true', he was working as a bartender in BC before this adventure and has now travelled the world, to places like Africa (a personal highlight), Asia, and all over.  When asked to describe their sound he told me that when people hear 'tenor' there is a bit of a misconception, that people think of these massive operatic voices that are lumped into one style of music.   He said that 'tenor' is a range of vocal ability and even people like Steven Tyler of Aerosmith, and Sting are tenors and that The Tenors music is about making the fan 'feel' something.  Whether it be an uplifting feeling, shedding a tear, they strive to make the fan at their shows feel something.
The Tenors are touring to accompany the release their second studio album, Lead With Your Heart.  Their first album in two years, they plan on having a few 'maritime' surprises when hitting our area.  Lead With Your Heart  features such songs as Bob Dylan's "Forever Young" and Elton John's "Sorry Seems To Be The Hardest Word" and one of the most recognizable and heroic Tenor arias, "Nessun Dorma", the mixture on well known songs complimenting music written and co-written by The Tenors.
Below you will find The Tenors Canadian tour dates as part of a 70-city North American tour (Maritime Dates in bold):
February 5                                     Vancouver, BC                              Queen Elizabeth Theatre
February 8                                     Kamloops, BC                                Interior Savings Centre
February 9                                     Victoria, BC                                    Save-on-Foods Memorial Centre
February 11                                  Edmonton, AB                               Northern Alberta Jubilee Auditorium
February 12                                  Lethbridge, AB                             ENMAX Centre
February 18                                  Calgary, AB                                    Southern Alberta Jubilee Auditorium
February 19                                  Regina, SK                                      Conexus Arts Centre
February 20                                  Winnipeg, MB                               RBC Theatre at MTS Centre
February 22                                  Thunder Bay, ON                        Thunder Bay Community Auditorium
February 25                                  Barrie, ON                                      Barrie Molson Centre
February 26                                  Kingston, ON                                 K-Rock Centre
February 28                                  Moncton, NB                                  The Centre at Casino New Brunswick
March 1                                           Sydney, NS                                      Centre 200
March 3                                           St. John's, NL                                  Mile One Centre
March 5                                           Halifax, NS                                      Halifax               Metro Centre 
April 2                                              Hamilton, ON                                Hamilton Place
April 4/5                                          Toronto, ON                                    Roy Thomson Hall
April 6                                               Montreal, QC                                   Place des Arts
April 8                                              Québec City, QC                           Théâtre Capitole
April 11/12/13                              Ottawa, ON                                      National Arts Centre
The show:
The concert Thursday night at Casino NB was a spectacle of vocal ability that many would not match.   A full house on this night was excited to get the show under way and the four Tenors from across Canada would not disappoint.  The show started with a simple dimming of the lights and for the next hour we were treated to songs both original from the four guys themselves like the title of the tour and their latest album "Lead With Your Heart".
Throughout the night each tenor took an opportunity to step to the front of the stage and talk about their past, their singing road, and taking the opportunity to dedicate a song to someone special to them before belting out a powerful and emotional vocal performance.
After a brief intermission of about twenty minutes the guys returned to the stage and spoke about some of the causes they were involved in like the Horatio Alger Scholarship Foundation and supporting the impoverished in Swaziland.  Throughout the night they sang a mix of great classic songs even throwing in a couple of 'maritime' flair like one by the Rankin Family, 'Fare Thee Well Love'.  At one point the brought the band to the front of the stage and lined the stage for a rousing musical and vocal performance  that had the crowd on it's feet for one of it's many standing ovations of the night.
The night closed with a resounding roar from the crowd as the Tenors performed their brilliantly arranged rendition of fellow Canadian Leonard Cohen's "Hallelujah".  With yet another standing ovation that lasted well over two minutes after the guys left the stage, and pulled them back out to perform two more songs as an encore that was capped off by the beautiful aria "Nussun Dorma"
Thanks to Clifton Murray, and Paul Mercs Concerts for the opportunity to discuss the group, the tour and the music.  I encourage everyone to get out and see The Tenors at a future show near you on the 70 city North American tour.